|TIMED SPECIALS|
Now we start to calculate, if you buy the Size L drawing board,We will give away the cartoon set worth 16.99 dollars for free!(color random) only for the top 100 customers, come and grab it!
Award Winning - U.S.A Best Parents Recommended Toy of 2019 (Toy World Magazine)
Is Your Child Addicted to Mobile Devices?
 A set of "Draw With Light" will help your child to reveal his or her creative potential without damaging home decoration!
A set of "Toyland Drawing Set" will help you distract the child from them!
Using this, your kid can create amazing drawings with a special stylus - pencils and paints are no longer needed.  
We know that your Child will LOVE this toy, so make sure to order more for Siblings!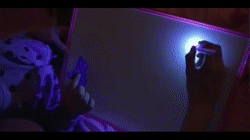 Using this, your kid can create amazing drawings with a special stylus -

 

pencils and paints are no longer needed.
👣
Leaves no Marks or Stains
👪
Fun For the Whole Family
🎨
Develops Drawing Skills and Creativity
✅

ISO Certified and is Harmless for Eyes
FREQUENTLY ASKED QUESTIONS
What age is Draw With Light best for?
This toy is best for boys and girls from 3 to 11 years. However, our customers with younger kids draw with kids, and their babies simply watch when this magic happens.
What conditions are best for drawing?
The darker the room in which you are drawing, the brighter and more beautiful your creativity will look. But, the tablet also works well with the light on.
Should I buy such a set, if my family has no talent for drawing?
Absolutely! Draw With Light is designed for kids with no drawing experience. Even simple patterns will become real magic. To start teaching your kid, you can use the stencils that are represented in our group, and then start drawing without their help.
Is this tablet safe for kids?
Draw With Light is made with safe PVC materials.  It does not contain phosphorus, heavy metals, and other harmful substances, so the kit is absolutely safe for human health.
How long does it take for the drawing to fade away?
The complete disappearance of your drawing will take about 30 minutes, but each new layer will be brighter than the previous one, so we recommend painting over the old picture, or dividing the space. The tablet is quite big, so it's hard to run out of space quickly.
How does it work?
It is a photo-luminescent PVC material in a frame, which quickly accumulates light from an artificial or natural light source and then glows for a while in the dark, gradually fading out. All components are absolutely safe for children.
How do you change the thickness of the light?
Just change the distance between the light marker and the tablet! We have Many Parents withdrawing experience using the tablet and creating amazing paintings that they send to us. You can check the review section.