World Wide Shipping Via UPS With Free Tracking No.
Special Deal: Buy 2 Get 1 Pair of Gloves
BUY MORE, SAVE MORE
| MINIMUM QTY | EXTRA DISCOUNT |
| --- | --- |
| 2+ | 24% Off |
| 3+ | 28% Off |
| 4+ | 32% Off |
| 5+ | 36% Off |
 KEEP YOUR GARAGE FLOOR AND HANDS MESS-FREE WHILE WORKING WITH FLUIDS!
Flexible Draining Tool molds into and holds the shape you want to create a leakproof channel for draining oil or fluid. It is the perfect tool to guide oil, fluids right to the pan for guaranteed no-mess oil and fluid changes. Try it now, see how it molds into any shape.
Made of thick, pliable nitrile rubber encases a thin layer of alloy to allow thousands of shapings reusing. It bends easily to fit into tight spaces, holds any shape, and is wide enough to catch every drip. Edges can be molded around large filters and drains to create a leakproof seal. Great for draining oil and other fluids from any type of vehicle or equipment, including cars, trucks, motorcycles, aircraft, boats, forklifts, generators, snowblowers, mowers, and more.
 FEATURES: 
Perfect Funnel System for The Easiest Transmission - Great for draining oil, gasoline and other fluids from automobiles, trucks, motorcycles, ATVs, industrial equipment, lawn equipment, and forklifts.
Flexible & Reshapeable-Can be formed to cone-shape, U-shape, V-shape, to fit in any space and help fit to tiny or narrow container entrances.
Easily Drain Hard-to-reach Oil Filters Without A Mess - A simple, yet helpful tool for transferring liquids/dry ingredients from containers to bottles while keeping the counter free from spills.
Wide Range of Application - In addition to draining and filling fluids, it can be used in a wide variety of applications including diverting water dripping from a pipe, filling bird feeders and filling fertilizer containers. The potential uses are endless!
Foldable and Highly Compatible - Works in temperatures from -30F° to 425F°, highly compatible with common automotive fluids, just reshape and reuse it over and over.
Cleans easily with cleaners and degreasers.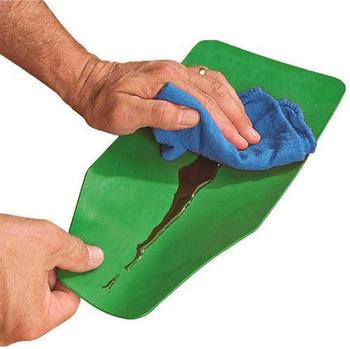 SPECIFICATIONS:
Size(about): Small 37x17cm/14.57*6.69inch
Large 50x20cm/19.69*7.87inch
Weight(about): Small 190g; large 375g
Color: green
Material:

Rubber+Aluminum Alloy