SPECIAL DEAL: Buy 1 Get 1 Pro Tools Kit
Turn your favorite photo into a Diamond Painting Kit! The perfect DIY gift for holidays, birthdays, and everything in between.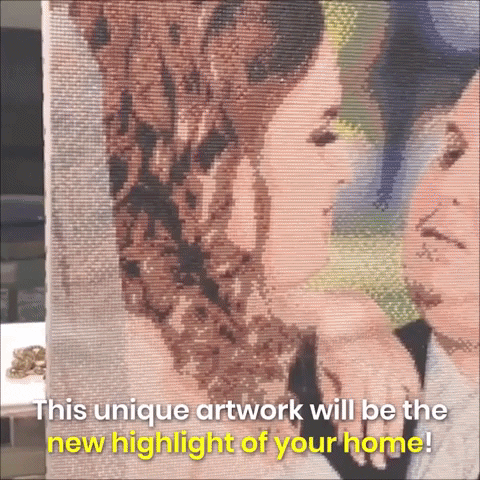 Highly Recommend Choose a large size at least(16x20 IN/40x50 CM ) to guarantee the best result.
Custom Kits are printed in our manufacturing facilities overseas; delivery takes between 7-25 business days (excluding processing times). Refunds are not available for Custom Kits.
Choose any photograph of your choice and upload it onto our website to complete the process. (Just remember, the larger the size of the painting, the more detailed it will be!)
Get your
"Custom Diamond Painting Kit"
now.
HOW TO CHOOSE THE PERFECT PHOTO
HOW TO CHOOSE THE RIGHT CANVAS SIZE FOR YOUR ARTWORK
30 x 40cm (at least)
1Person, symbols, crests or comic figures.
40 x 50cm (at least)
1-2 faces or pets, and close-ups of objects.
60 x 80cm (at least)
1-3 person incl. body (e.g. wedding photo, holiday photo) landscapes, cars, houses, etc.
SIZE REFERENCE
Learn More


SQUARE VS. ROUND DIAMONDS: WHAT'S BETTER? 
Depending on your skill level, you may want to choose a drill that's easiest to work with for you. As we covered,

 round diamonds can be easier

 

to handle when getting started, but square diamonds make a more complete painting even though they do require more effort to place. The choice is up to you!
WHAT DOES THE PACKAGE INCLUDE?
1. Self Adhesive Canvas
2. 1xDiamond Applicator Pen
3. A set of Tweezers
4. 1x Grooved Organizing Tray
5. 1x Glue
6. Labeled bags of diamonds
7.1x 20-Pieces Tools Kit
FAQ
FAQ 1 What kind of pictures are suitable for photo diamond paintings, is it possible for photo stickers?

A: Cobalt stone paintings are not very demanding on photos, as long as you provide mobile phone photos or computer screenshots, of course, you can mention
Better for clearer pictures
 
FAQ 2 What size should my photos be?

A: This size is not fixed, according to the characteristics of everyone's photos, the size will be different, you can send a photo first.
Generally a single half body without background can guarantee the effect on 30x40cm, the double wedding dress is better at size 60x80cm
 
FAQ3 If I want to make the photo smaller and want better results, is that possible?

A: This is also possible, which requires attention when selecting photos, if you want to do small 、clear and satisfied
Taking a recent photo is a photo with a big face on a photo. This will work just fine.
 
FAQ 4   how many days I can receive the package ? Is the picture in color? How big is diamond?

A: After the order is placed, it will be shipped within 7-12 days under normal circumstances. Because customization requires drawing, printing, gluing, cobalt, etc.
Many processes, we want to ensure the quality of every item. The picture is all colored blocks and symbols, very clear .The size of each round diamond is 2.72mm, and the diamond will be smaller than you think when you see it.

FAQ 5 Is it really as good as the rendering?

A: The diamond painting will not be completely equivalent to the photo, closer to the artistic effect of the oil painting, the overall effect is the same, but close-up It will be different, I believe friends who have embroidered cross stitch or pasted diamond painting can understand!
 
FAQ 6 How long can a diamond painting be kept? Will it fall off after a long time?

A: The adhesion between the glue and the diamond is very good, we can guarantee that the diamond painting is in a natural state, and it will not be long. And the longer it gets stronger. Don't worried about it.
FAQ 7  I customized a item and found that the size is not suitable after receiving it. Can I change it?
A: No, custom-made items are not supported for 30 days without a reason to return, because we cannot conduct secondary sales
 So when ordering, please choose the size that suits you.
FAQ 8 Do you giveaway the tool? Is it easy to make? Any how-to tutorial?

A: We will giveaway a full set of tools, buy 2 will also giveaway an additional set of tools, diamond painting is much simpler than cross stitch, do not need drawings,:
We will send you a how-to step tutorial video you will understand at a glance.